Astonishing 'Joy Equation' Banishes Depression, Obliterates Bad Moods And Helps To Finally
Bring Simple Happiness Back Into Your Life...
Safely, Naturally And Without The Use Of Drugs

There's A Very Good Reason Why You Can't Climb Your Way
Out Of The Well Of Depression No Matter How Hard You Try...
On this page, you'll learn...
The startling reason millions of Americans are unable to crawl out of the deep well of depression no matter how hard they try...
How one man's "crisis of faith" has revolutionized depression treatment and helped thousands banish depression and bring real joy back into their lives and the lives of their families.
The blunt and honest truth about depression and depression treatment that the fat cat pill pushers have spent millions to keep under wraps...
And...
One remarkable, natural and ridiculously affordable depression-relief plan that actually works... using this plan, many people find relief from depression (and get rid of it for good) in 30 days or less without the use of drugs.
---
For Immediate Release
Dear Friend,
In just a moment, I'm going to tell you how you can use the "Joy Equation" to quickly, affordably and naturally banish your depression.
But first, let me tell you my own story...
When I was in High School my gym teacher (who was a bald-headed, always-grinning sadist we called "Mr. B") would taunt us by talking about "The Wall."
"The Wall" was that invisible barrier you would hit after running a few too many laps or a few too many miles when you're body just decided enough was enough.
You'd be running along, everything was going fine and then...
"BAM..."
... you slam into "The Wall" at top speed, get knocked on your butt and suddenly every step feels impossible.
Every step is hard.
Every step is pain.
Hitting the wall describes how I was feeling a few months ago when I found myself lying on my office floor, staring at the ceiling. I had a sick, nauseous pulse in my throat, my eyes on the verge of tears, just waiting for the hours to to go by...
Then I Realized That -- Maybe For The First Time In My Life -- I Was Really Truly Depressed
The way I see it, common depression treatments can be grouped into three categories... all of which have tremendous downsides that bother me deeply.
You see, I've always been a religious man, active in my small Baptist church... and when an argument over our new pastor threatened to tear my family apart, I spiraled downward, and took a header right into the deep well of devastating, horrible depression.
I alienated my loved ones and my friends, got crabby on the phone and stopped answering the door.
I completely lost interest in sex and love, treating my amazing wife in ways I desperately wish I could take back.
I stopped doing the activities I cared about, stopped cleaning, stopped caring and stopped living.
I Hit "The Wall" And I... Stopped.
And when I finally "started" again. When I was finally lucky enough to crawl my way out of that horrible malaise, started to embrace the help my loved ones offered me and started to live my life again?
I Made A Decision That I Would Never Feel That Horrible Sadness And Sense Of Helplessness Again And That I Would Do Everything I Possibly Could To Help The Millions Of People In This Country And Around The World Who Are Suffering From Crushing Depression Every Day
Through "The Joy Equation" we hope to help the millions of depression sufferers around the world to finally banish depression and embrace the happiness they deserve.
"You did an extremely good job of getting me the report quickly and I found it to be very interesting and felt it was definitely worth a try."

--T. Brown
New London, MO
---
"Even though the remedy consists of very common and natural ingredients, the results in my case are phenomenal. Not to mention that I had immediate results!"

--Ted Jones
Rex, GA
---
"I am a physician and I was very skeptical about this treatment. Nonetheless I have tried it and it seems to help. My early response is favorable."

--Richard Bensimon, M.D.
Trumbull, CT
---
"I had no problems with my order. In fact, I'm looking forward to trying some of your other home remedies and natural solutions, so keep sending those emails."

Thanks again,

--Stephanie Danford
Colorado Springs, CO
---
"The way you've handled everything for me has been above anything I could ask for. The report, the extra reports, the response when I couldn't find my report on Wednesday after I ordered it on Tuesday. Your follow up. Your concern as to how I am doing, everything. There is nothing I can think of that I would suggest you change. You are doing a great job.

Thanks!!! A MILLION!!!"

--Sharon Smith
Rossville, GA
And because of my own experience with depression, my team and I have recently developed a complete, natural approach to alleviating depression that actually works. Many people find relief from depression in 30 days or less... an approach I call...
The Joy Equation
If you've tried treatment after treatment and have still been unable to bring joy and happiness back into your life, it's NOT YOUR FAULT. In fact, there are several very real reasons why this has happened to you -- why your efforts to banish depression from your life have been doomed to failure right from the start, and why, no matter what you try, you find yourself continuing to suffer from the crushing sadness and malaise.
No matter how long you've been depressed or how depressed you've been, you can say goodbye to the constant sadness, say goodbye to the numbness and the pain and rediscover simple, honest happiness without blasting your mind with pills, without massive life change and without emptying your savings into the pockets of doctors and therapists.
The way I see it, common depression treatments can be grouped into three categories... all of which have tremendous downsides that bother me deeply.
1.) The Utterly Ineffective:
Depression guru after depression guru focuses on "positive thinking," energy work or other "surefire" fads that, while entertaining in their way, sap away hope from their victims and leave unfortunate sufferers in their wake no closer to true happiness at all.
2.) The Prohibitively Expensive:
While psychotherapy and counseling have proven again and again to have a positive effect in the ongoing fight against depression, the sheer cost of this one-on-one treatment puts it out of the reach of many people and can cause a huge amount of stress and even sadness for those people who can afford it. Sessions with a competent therapist can cost $80, $100, $200 or more per hour, hour after hour, week after week for years with only the smallest, barely noticeable changes in attitude, persona and happiness. Therapy can easily add up to thousands or even tens of thousands of dollars per year.
3.) The Dangerous, Side-Effect-Laden "Magic Pills."
Listen, we'd all like to be able to swallow a pill that would destroy our bad moods and propel us to a state of positive, powerful happiness that would let us stride through our lives like giants, unbothered by anything and utterly immune to side effects.
But such a pill simply doesn't exist. And even if it did, it would be owned by a fat-cat monolithic pharmaceutical company and doled out at a high premium and only by prescription by doctors. I implore you here, even if you never take part in The Joy Equation, I hope you'll leave this site knowing that the hyped up "Magic Cures" you see on the internet are often dangerous, ineffective and sometimes misleading.
I have one very simply question for you, the answer to which may well change your life forever:
Are You Ready For A Serious, Legitimate, Natural And Affordable Depression Solution That Really Works And That's Based On Sound Research And Real World Experience?
Just imagine yourself out in the world, at your kid's soccer game or at work, a huge, satisfied smile across your face, almost blinding lights beaming from your eyes.
Just imagine yourself bounding out of bed in the morning ready and even eager to face the day and whatever challenges it might bring.
Just imagine being filled with passion and love and truly, once again being able to enjoy the company of your friends, your family and your spouse or partner.
Just imagine saying goodbye to the stress and the expense of those side-effect laden depression pills... and regaining your true personality and your true self.
Just imagine finally being happy... and having the tools and the knowledge you need to stay happy even in the face of the toughest challenges.
Just imagine finally finding joy.
Introducing The Joy Equation
Here's what this is all about.
My expert team of researchers and I have spent the last several months immersing ourselves in the world of depression in a quest to finally discover a simple, natural way to banish this terrible affliction from our lives and from the lives of those we know forever. (Because, yes, like most Americans we've had our bouts with the specter of depression and realize how devastating it truly can be.)
We've dug through absolute mountains of scientific literature, separated the honest truth from speculation and cut through the medical malarkey to discover what science and culture really know about the causes of depression.
I've taken the time to prepare a detailed comparison of this holistic method of therapy versus doctor's visits.

Joy Equation Comparison
We've visited and talked to psychotherapists, social workers and other depression experts to get real insight into the emotional life of depression and find out what aspects of therapy are truly useful and what's just expensive mumbo jumbo.
We've dug deep behind the curtain of America's pharmaceutical establishment to discover the real truth about common depression-masking drugs (no drug can truly cure depression) and to lay bare the real side effects of these "magic pills" and to let every depression sufferer know what they're truly getting into when they turn to drugs to treat their depression.
And we've poured our hearts, our souls and hundreds of hours of our effort and time into creating a simple, affordable and startlingly effective solution for depression... a four part system proven to give you tools and support you need to banish depression from your life without drugs and without costly, seemingly endless therapy bills.
We call this four-part remedy for depression The Joy Equation.
In our research, my team and I determined that there are four essential components to relieving depression without the use of drugs.
They are:
Information... knowledge of what it is you're facing
Action... Simple, easy-to-follow instructions for combatting your depression.
Inspiration... Stories of people just like you who have successfully banished depression from their lives the natural way.
And support... Having people in your corner who care about you and your progress and who are willing to go out of their way and to even extreme lengths to help you climb your way out of the well of depression and to reclaim the happiness you deserve.
Knowledge + Help + Inspiration + Action = Joy Equation
In the Joy Equation, we've combined these four components into one simple, easy to follow and almost ridiculously affordable package.
Here's What You'll Get When You Make The Powerful, Life-Changing Choice To Tap Into The Joy Equation And Get Rid of Your Depression Safely, Naturally And Without Drugs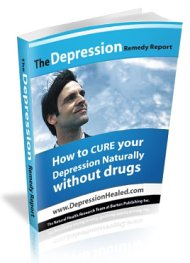 1.) Information
The Joy Equation "Depression Remedy Report: How To Get Rid of Your Depression Naturally Without Drugs"
This expertly researched and simply-written downloadable report will quickly become your depression fighting bible. These 34 pages are absolutely crammed with the simple and honest truth about depression, what really causes it (and what really doesn't) and what you can do today to finally climb your way out of the well of sadness and learn to embrace the active life, sense of purpose and happiness you deserve.
Inside you'll learn...
The difference between depression and sadness... and how to tune up and refine your "depression radar" so you'll know in an instant whether you're just "having a bad day" or are in danger of falling into a dangerous and soul-killing bout of depression.
12 deadly depression danger signs... and what to do right away when you feel these symptoms coming on.
The six most common types of depression... and how to identify what type you're suffering from in surprisingly little time.
Simple facts about hormones... and why women are twice as likely as men to suffer from depression.
The devastating silence surrounding men's depression... and how to help yourself (or the men in your life) open up about their inner pain.
The truth about bi-polar disorder... and how to separate this "depression see-saw" from major depression.
Simple facts about Seasonal Affective Disorder (SAD)... and ridiculously simple steps you can take to obliterate the winter blues.
How to handle the devastating effects of postpartum depression... and what every soon-to-be mother needs to know about the "Baby Blues."
The four types of psychotherapy... and danger signs to look out for when choosing a therapist.
How to get off the Drug train and say goodbye to Prozac, Zoloft, Paxil and other all-too-common depression-masking drugs for good.
What anti-depression drugs really do to your libido... and hard facts you need to know about what these "wonder drugs" will do to your love life.
The dark side of Welbutrin... and why this popular drug could leave you dizzy, dry-mouthed and desperate for an alternative.
The truth about light therapy... and what photosynthesis in plants has to do with your moods and the way you think.
The real skinny on Eastern Medicine... and how you can use these ancient, proven techniques to drastically boost your mood in surprisingly little time.
Why, how and when to meditate... and why anyone can meditate anywhere at any time without getting new-agey or drawing attention to themselves.
The secret about

"The Secret"

... and how positive thinking really can hijack your sadness and put you on a path to personal power.
How what you eat affects how you feel. . . and a comprehensive emergency list of foods and herbs to keep in your Depression Combat kit.
The amazing power of peppermint.
Why depression loves isolation... and how to motivate yourself to get out in the world and among friends even when you're feeling low.
And much, much more, all explained in simple, non-scientific language and laid out to take away any confusion you might have and tell you exactly what you need to do to reclaim the happiness you're entitled to and start enjoying your life.
2.) Action
You'll receive 30 days of simple email tips from the Joy Equation team telling you the exact actions you should take to start combatting your depression today.
You'll wake up every morning to find a new message from our team giving you a simple, easy-to accomplish task to help you throw off the weight of your depression and begin the process of restoring yourself and reclaiming your life.
3.) Inspiration
58 Inspiring Stories from sufferers who have conquered depression the natural way without the use of drugs.
We've compiled 58 powerful accounts of people just like you who have suffered depression (in some cases for years or even decades) and who have used the techniques, tips and information of the Joy Equation to conquer their depression and regain power over their lives including:
| | |
| --- | --- |
| | Pamela's Story... and how she stopped taking her tablets and discovered the hidden joy of sailing the seas. |
| | How Linda cancelled the "pity party," dodged the "Magic Pill" bullet and learned to be there for her beautiful children. |
| | What Ruth did to defeat the winter blues and brought vitality and color back into her life. |
| | Cari's struggle with post-partum depression... and the clever little trick she did to keep her hormones balanced and her sadness in check. |
| | How Terry faced the pain of a terribly traumatic childhood, regained control of her life and has now dedicated her time on this earth to helping others. |
| | The small favor that led Ted to turn to his faith... and to rediscover his personal joy. |
And many, many more all delivered right to your inbox to give you the inspiration you need to experience joy once again.
4.) Support
Email Access To Our Staff And Access To The Exclusive, Members' Only Joy Equation Forum
Want more great reading...?
Check out my blog on healthcare and life in general.

If you want a great, free resource with tons of information and links, look no further!
Put simply, no one can conquer depression alone. When you make the choice today to take hold of the Joy Equation, you'll receive unlimited lifetime email access to our staff. If you have a question about the Joy Equation, the information in the Joy Equation Report, The Joy Equation Depression Banishment Emails or simply need some personal feedback and guidance, simply email us and we'll be sure to get back to you, usually within 24 hours.
Plus you'll have unfettered access to the Joy Equation Forums: A rapidly growing place to discuss your natural fight against depression with sufferers and former sufferers who have made the decision to say goodbye to drugs, to sadness and to pain.
Sit back for a moment and just imagine what a huge opportunity this is to finally banish sadness from your life and embrace joy.
Alright, I'm interested...
But How Much Does It Cost?
Since I want to get The Joy Equation Natural Depression Banishment System into the hands of as many people as possible as quickly as possible, I'm going to make a ridiculously attractive proposal and offer you the entire package listed above for just one payment of $19.97... on one condition.
After you follow the advice of the Joy Equation Report, take the steps prescribed in our email action items, read through the inspiring Joy Equation Stories and take part in the forum, please send us a quick note giving us an update on your progress and letting us know how The Depression Remedy Report has helped you banish depression from your life and reclaim the happiness and joy you deserve.
Is it worth $19.97 to say goodbye to the emotional, physical and financial abuse of the "Magic Pills" for good? Is it worth $19.97 (less than it costs to take your family to the movies) to embrace joy, to say goodbye to the long days staring at the ceiling and to reclaim your happiness?
You bet it is.
But I want to make this an absolute "No-Brainer" for you. Which Is why I'm going to offer you my...
The Joy Equation comes with a no-questions-asked, no-hassle, 1 YEAR money-back guarantee.

If my remedy doesn't relieve your depression, all you need to do is send me an email within the next 365 DAYS and I'll promptly refund 100% of your purchase price, no questions asked!

That's 12 FULL MONTHS to put this system to the test, so all the risk is on me.
If Not Now, When?
If Not The Joy Equation, How?
Listen. If you've read this far through this lengthy letter, it shows that you're serious about finally banishing sadness and depression from your life and embracing the joy that you deserve.
Right now, you're faced with a simple decision.
You can click the link below, take absolutely no risk and open yourself to the natural road to happiness offered by the Joy Equation.
Or you can click off of this site, sit back and continue on the path of depression that has plagued you already for far too long.
You have nothing to risk, and a tremendous amount to gain. Click the link below and open yourself to the Joy Equation now.
| | |
| --- | --- |
| | |
| | The Joy Equation |

| | |
| --- | --- |
| | |
| | Prescriptions |

Psychotherapy
| | |
| --- | --- |
| | |
| | Price |

| | |
| --- | --- |
| | |
| | $19.97 one-time payment |

| | |
| --- | --- |
| | |
| | $25 - $89+ every month for years |

| | | |
| --- | --- | --- |
| | | |
| | $3000 - $9,000+ | |
| | |
| --- | --- |
| | |
| | 100% Satisfaction Guarantee |

| | |
| --- | --- |
| | 365-Day 100% Money Back Guarantee |

| | |
| --- | --- |
| | |
| | No money back guarantee |

| | | |
| --- | --- | --- |
| | | |
| | No money back guarantee | |
| | |
| --- | --- |
| | |
| | Complications & Risks |

Possible food allergies
(very rare)

| | |
| --- | --- |
| | |
| | Serious side effects, drug addiction, complications from wrong diagnosis or multiple prescriptions |

| | | |
| --- | --- | --- |
| | Awkward, embarassing sessions with complete strangers who don't know you | |
| | |
| --- | --- |
| | |
| | Convenience |

| | |
| --- | --- |
| | Immediate download, put the information to use within the hour using grocery store products |

| | |
| --- | --- |
| | |
| | Fairly convenient, except for trips to the doctor and pharmacy |

| | | |
| --- | --- | --- |
| | | |
| | Very inconvenient | |
| | |
| --- | --- |
| | |
| | Effectiveness of Treatment |

| | |
| --- | --- |
| | Highly effective. Treats the source of the problem, doesn't just mask symptoms. |

| | |
| --- | --- |
| | |
| | Treats the symptoms, not the real problem |

| | | |
| --- | --- | --- |
| | | |
| | May treat the source of the problem | |
| | |
| --- | --- |
| | |
| | Other Benefits |

| | |
| --- | --- |
| | |
| | Educate & improve yourself for a lifetime of excellent health |

| | |
| --- | --- |
| | |
| | Pop a pill, forget about the consequences |

| | | |
| --- | --- | --- |
| | People might enjoy discussing your visits to the "headshrinker" | |
| | |
| --- | --- |
| | |
| | What's Your Choice? |

| | |
| --- | --- |
| | |
| | Give me drugs |

| | | |
| --- | --- | --- |
| | | |
| | Psychoanalyze me | |
Are You Ready To Take Control?
It's decision time now. Either you continue to live in pain or you take action right now and squash your depression. It's easy. Just click the "Click Here To Order" link below and you'll get all the details.

You're Only Seconds Away...
No Risk 100% Secure Acceptance Form
"3 Reasons You Better Not Wait"


| | |
| --- | --- |
| | Instant Access to the Report Seconds After Ordering! |
| | 2 FREE Bonus Reports Are Included Today (Worth $57.00) |
| | Order Risk-FREE With A 365-DAY Money-Back Guarantee |
YES! Give Me
Instant

Risk-FREE

Access To

The Joy Equation Right Now!


100% Guaranteed Security - Our online shopping cart is 128-Bit SSL Secure so nobody, and I mean nobody, will ever hack into your private information. You can order online today with 100% assurance of safety and security... Guaranteed!


-- The Joy Equation Team

P.S. Remember, your order is completely backed by our Iron-Clad 365-Day guarantee. If The Joy Equation System doesn't help you to quickly, naturally and affordably banish depression and embrace joy, simply ask we'll refund your money in full.
You'll be redirected to the download page right away. And then, if you have any questions or problems ordering along the way, feel free to contact us via email, and we'll usually get back to you within an hour.
P.P.S. There has simply never been a more affordable or more effective way to naturally treat your depression without drugs. No matter how long or how badly you've been suffering, you're just two minutes away from finally starting down the path to happiness and personal power you deserve. Don't wait. Don't think on it. Click the link below and open yourself to The Joy Equation today.
Click Here to buy my report, and get rid of your depression today
naturally, with no side effects -- 100% money back guaranteed!!